Have you seen Come From Away on Broadway? Newfoundland and Labrador is the easternmost province of Canada, we didn't know much about it until we watched the show in NY.
Though Newfoundland is filled with awe-inspiring landscapes, icebergs, and puffins, what truly makes them stand apart from any other place we visited is the people. Everyone was so friendly, warm, and welcoming, and even the visitors we encountered would not stop talking about the hospitality here. It was next level.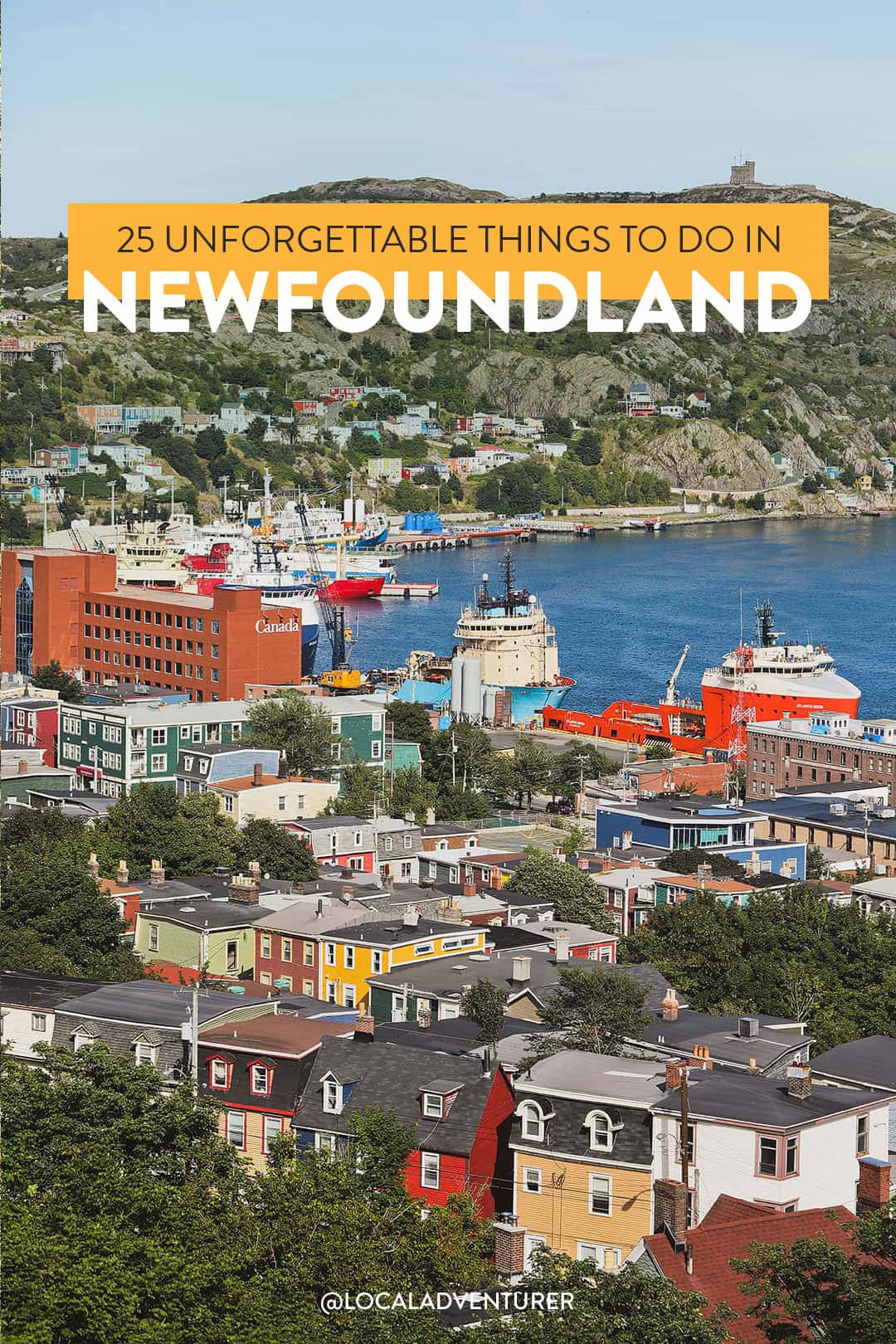 A big thank you to Legendary Coasts of Eastern Newfoundland for hosting our trip. All opinions are always our own. This post may contain affiliate links, where we receive a small commission on sales of the products that are linked at no additional cost to you. Read our full disclosure for more info. Thank you for supporting the brands that make Local Adventurer possible.
Last Updated: January 20, 2020
25 Unforgettable Things to Do in Newfoundland
During our visit, we only got a chance to explore the Legendary Coasts of Eastern Newfoundland. There aren't many places I want to revisit, but after a taste of Newfoundland, we know we have to go back.
1. Gros Morne National Park
Rocky Harbour, NL A0K 4N0, Canada, map
Gros Morne National Park is known for beautiful fjords, towering mountains, sprawling beaches, forests, and cliffs. It is a UNESCO World Heritage Site and really deserves a guide of its own, but we'll wait until we get a chance to visit ourselves. A few highlights you shouldn't miss are:
The Tablelands – a moon-like landscape with lots of hikes and views
Western Brook Pond – take a cruise to see the cliffs from the water
Lobster Cove Lighthouse – great whale watching and sunset spot
More: Your Complete List of 400+ National Parks in the US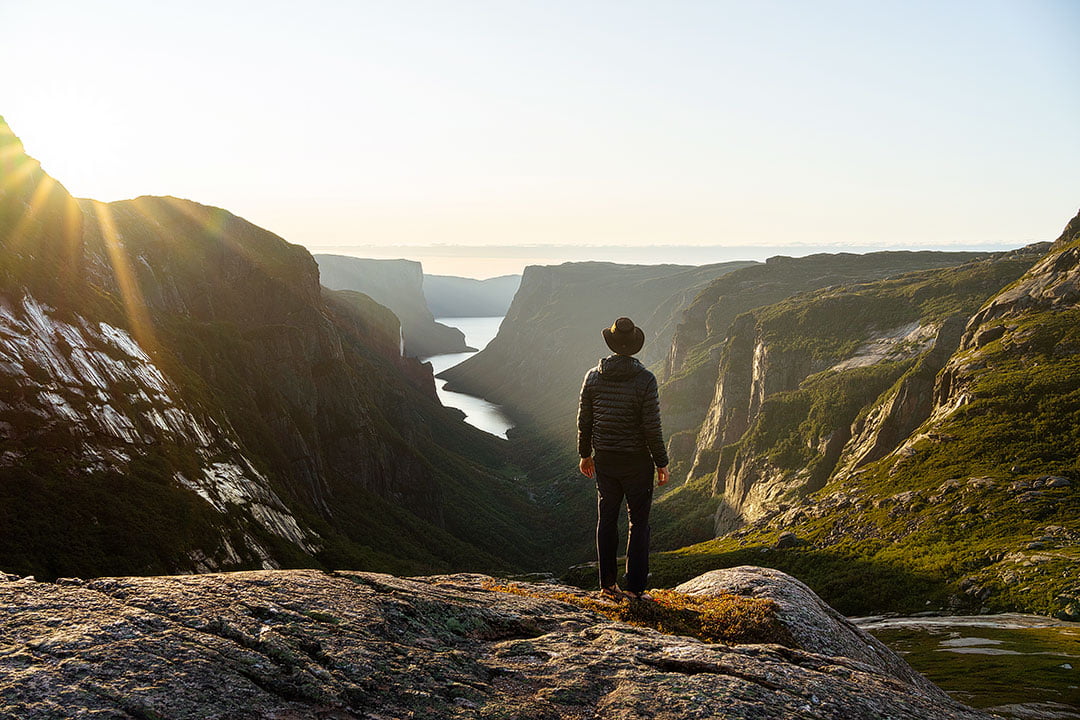 2. Cape Spear Lighthouse National Historic Site
Blackhead Road, Cape Spear, St. John's, NL A1C 5H2, Canada, map
This historic site is just South of St. John's and has plenty of trails to explore and beautiful panoramic viewpoints. If you follow the trails down to the coast, you'll also find the Easternmost Point of North America.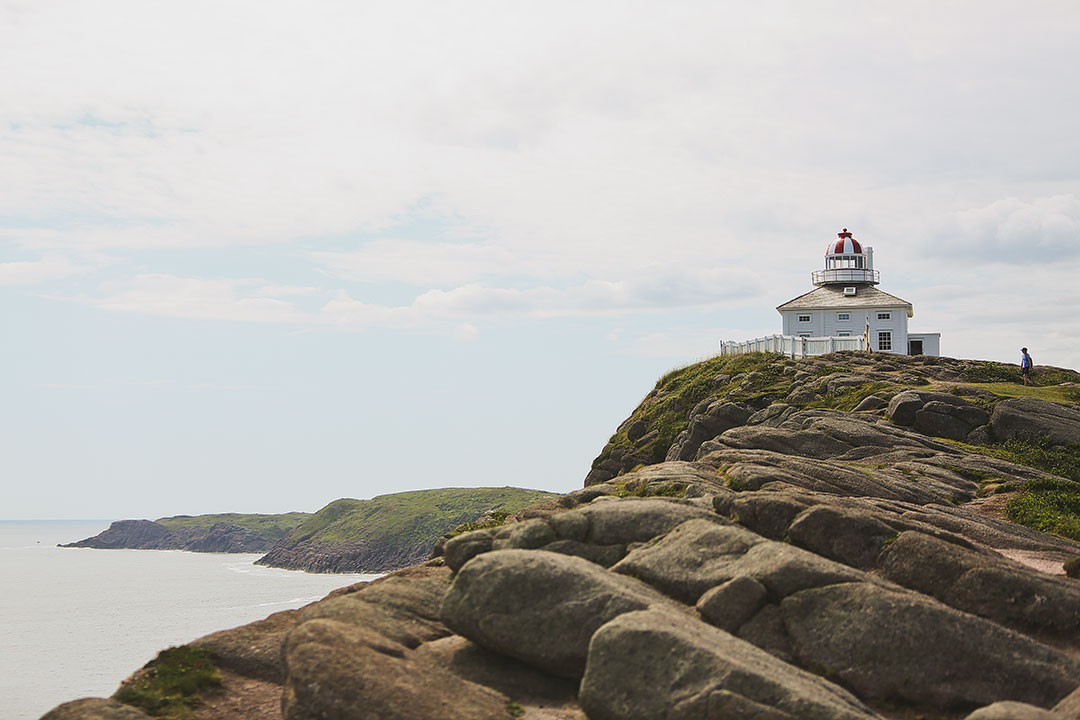 3. Signal Hill National Historic Site, St Johns
230 Signal Hill Rd, St. John's, NL A1A 1B3, Canada, map
This was the first stop we made after arriving in St. John's. It was the perfect way to get a literal overview of the city. Signal Hill was once the site of the city's oceanfront military defenses, but now there are hiking trails and a panoramic view of the city. You can also do a guided tour.
Pro Tip: If you climb Cabot Tower, you can get an even higher view.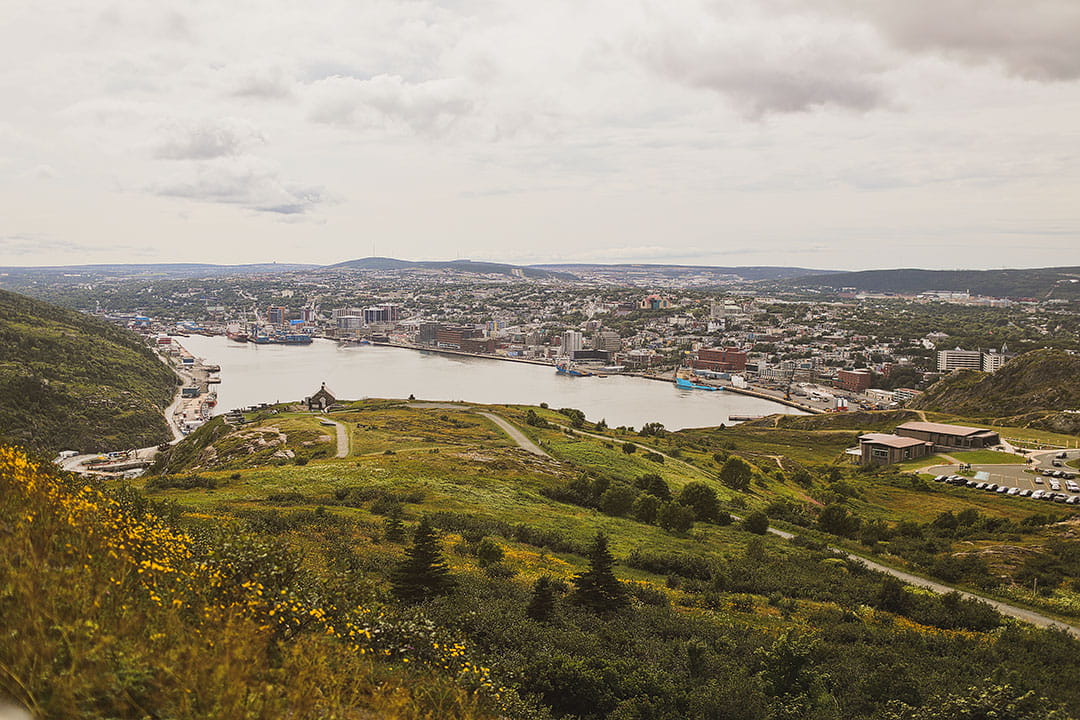 4. Quidi Vidi Village, St Johns
10 Maple View Rd, St. John's, NL A1A 5W2, Canada, map
This picturesque town lies along Quidi Vidi Lake. Walk the narrow streets or grab a drink at the Quidi Vidi Brewing Company. There are even trails that take you up on the hills to get a top down view.
Pro Tip: Parking is very limited. We kept trying to find a 'closer' parking spot and wasted time driving around. Pull in to any spot you see and you can easily walk around the area.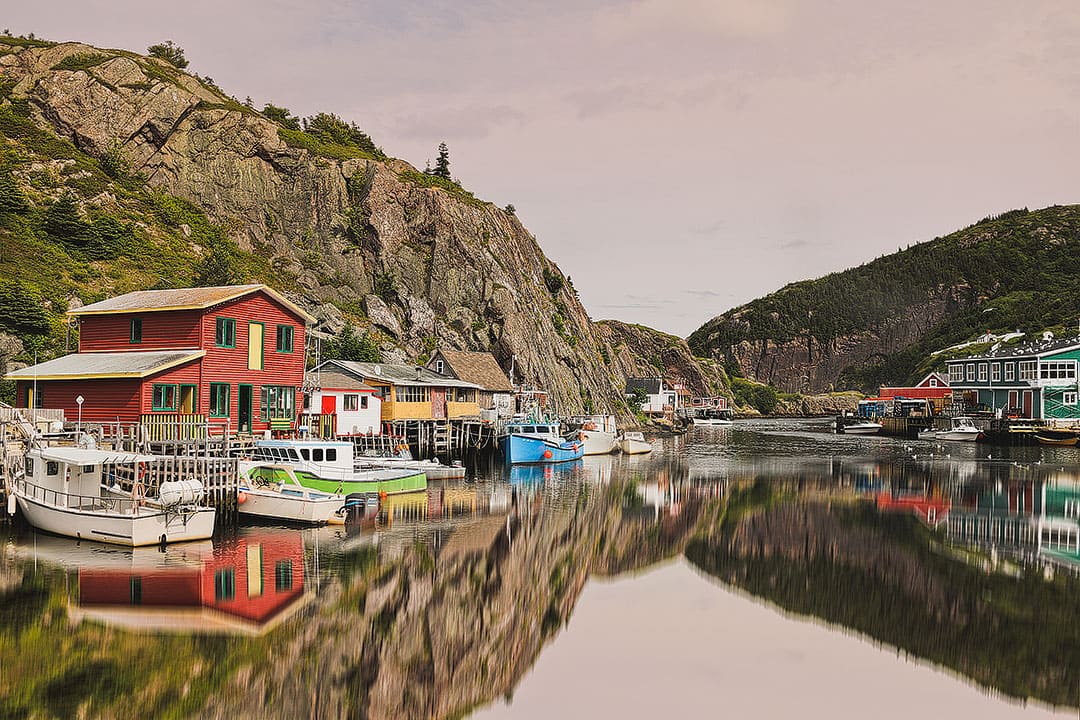 5. Get Screeched-in on George St, St John's
George St, St. John's, NL, map
Newfoundland has a ceremony for come from aways (any non-Newfoundlanders) known as the "screech-in". It usually involves a shot of screech (the local rum), a short recitation, and kissing a cod. George Street is full of bars and pubs where you can get screeched-in but be sure to check their schedules. Some require reservations and others don't. Many bars only do them a certain time of day or week. 
Local Tip: We thought we could just drop in on one spontaneously, but that wasn't the case. Since we were limited on time, we didn't get a chance to get screeched-in. Try Trapper John's or Christian's Bar. If you miss it in St John's, you can find plenty of places to get screeched, but it might require some planning ahead.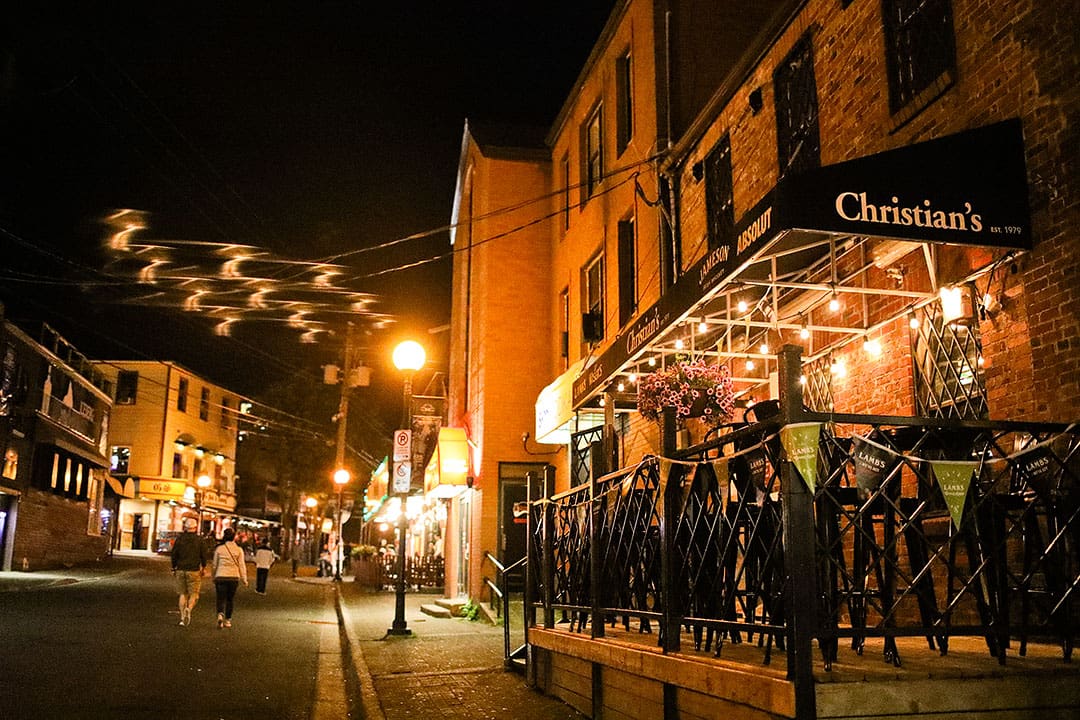 9 Bonaventure Ave, St. John's, NL A1C 5P9, Canada, map
Since we're not huge museum people, we mainly wanted to visit for the views from the top of the building. The views did not disappoint, but we also ended up spending a couple of hours checking out all the exhibits. The Rooms art gallery and museum gives you more natural and cultural history of the area, and it has a few fun interactive areas too.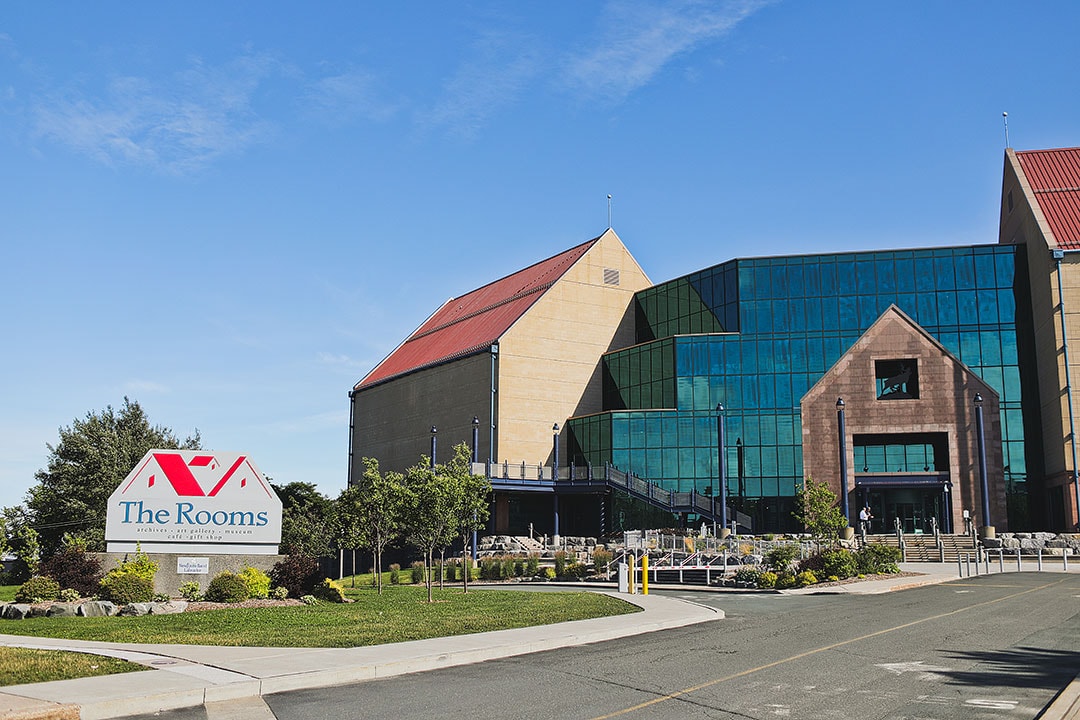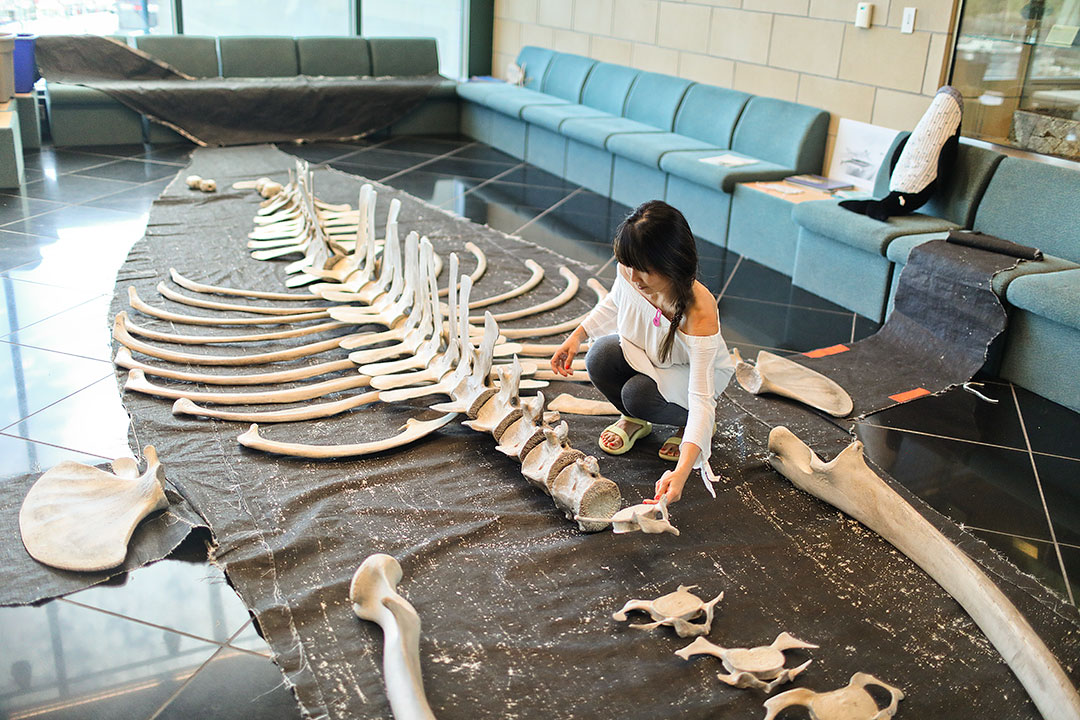 7. Jellybean Row, St Johns
1-245 Duckworth St, St. John's, NL A1C 1G8, Canada, map
The brightly colored homes in St John's are better known as Jellybean Row. We initially thought it was just a specific set of houses, but it actually covers multiple streets, so you can wander around to find the area you love most.
Pro Tip: Take a photography tour with Moe from Far East Photography Tours since he knows all the best spots. After visiting Jellybean Row, he also took us to other scenic spots only a local photographer would know.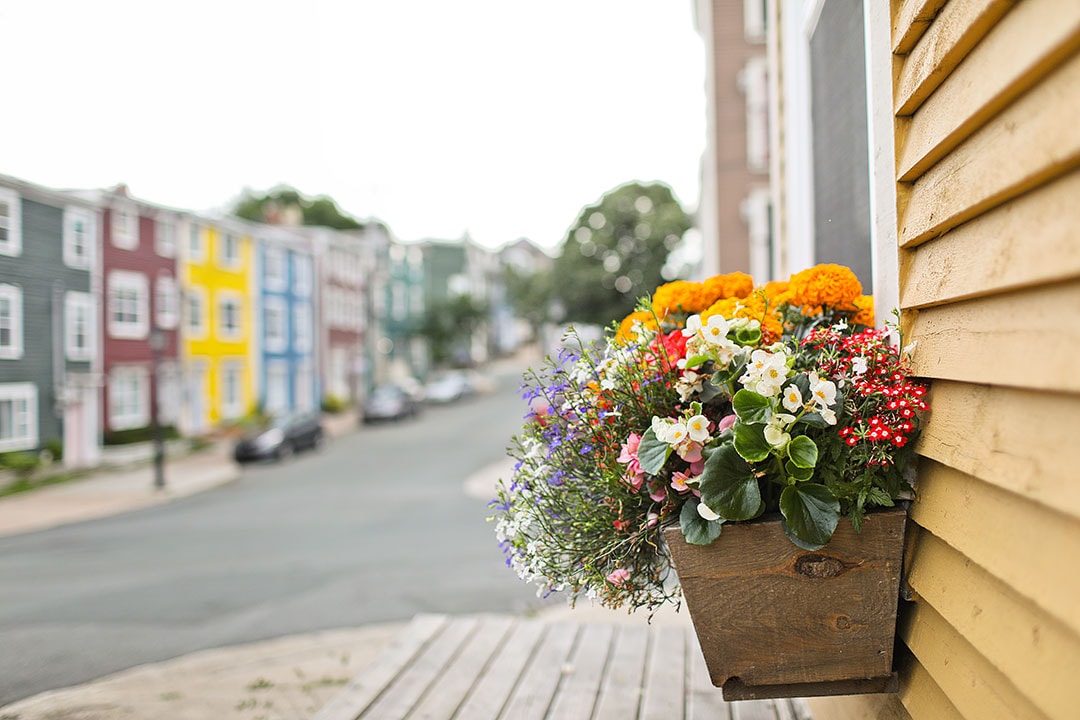 Dildo, Newfoundland and Labrador, A0B 1P0, map
Yes, Dildo. That's the name of the town. It recently received a lot of attention after Jimmy Kimmel became an honorary mayor. He put up 'hollywood-style' Dildo sign on the hills that people stop by to take photos of. You can also stop by the popular Dildo Brewing & Museum, go whale watching or rent a dory boat to get a view from the water.
Pro Tip: The Dildo Boathouse Inn was the perfect home base in Dildo. Dennis and Paula make you feel like home and the rooms are beautiful. It was our favorite place to stay during our trip.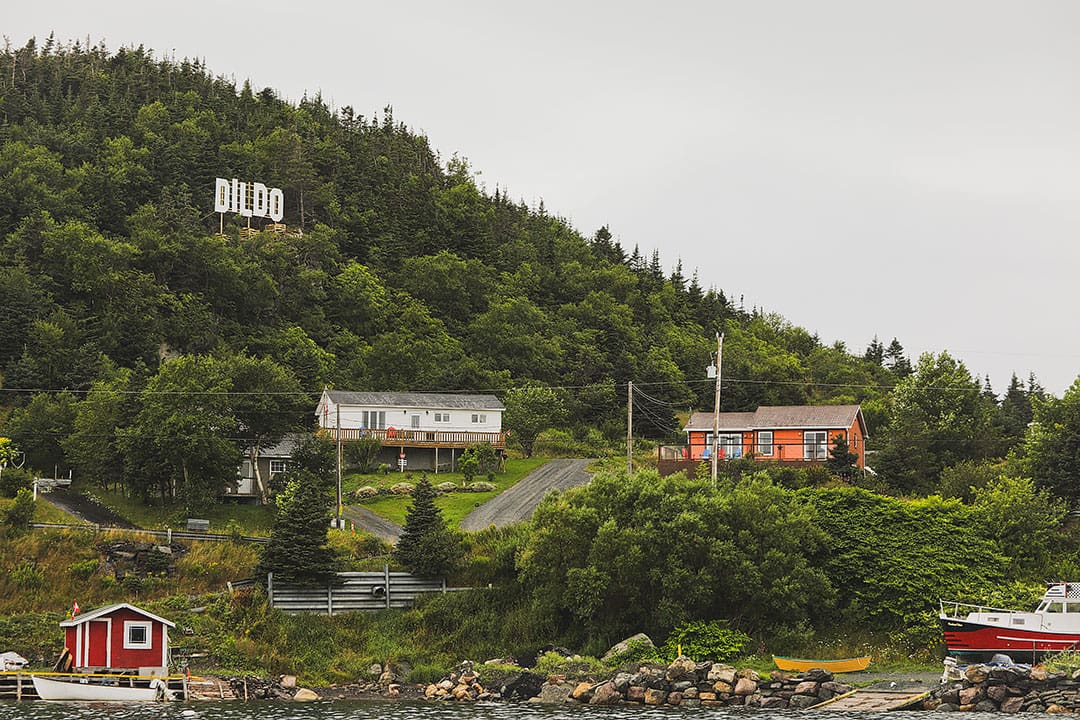 9. Whale Watching with Sea of Whales Adventure
12 Ash's Ln, Trinity, NL A0C 2S0, Canada, map
This was hands down the best whale watching trip we've been on. We were over whale watching, but this trip made us understand why people go whale watching again.
Since we visited on the late end of whale watching season, we were initially reluctant to go. Plus, we've been on plenty of boat trips where it's primarily waiting around for hours for an anti-climactic spotting of a whale fin.
These guys from Sea of Whales Adventure know what they're doing. With 7 different launching points on the Bonavista Peninsula, they are able to launch closest to where whales have been last active. During our trip, we hung out with 2 curious humpback whales, saw a whale breach for the first time, and witnessed a crazy blue fin tuna feeding frenzy.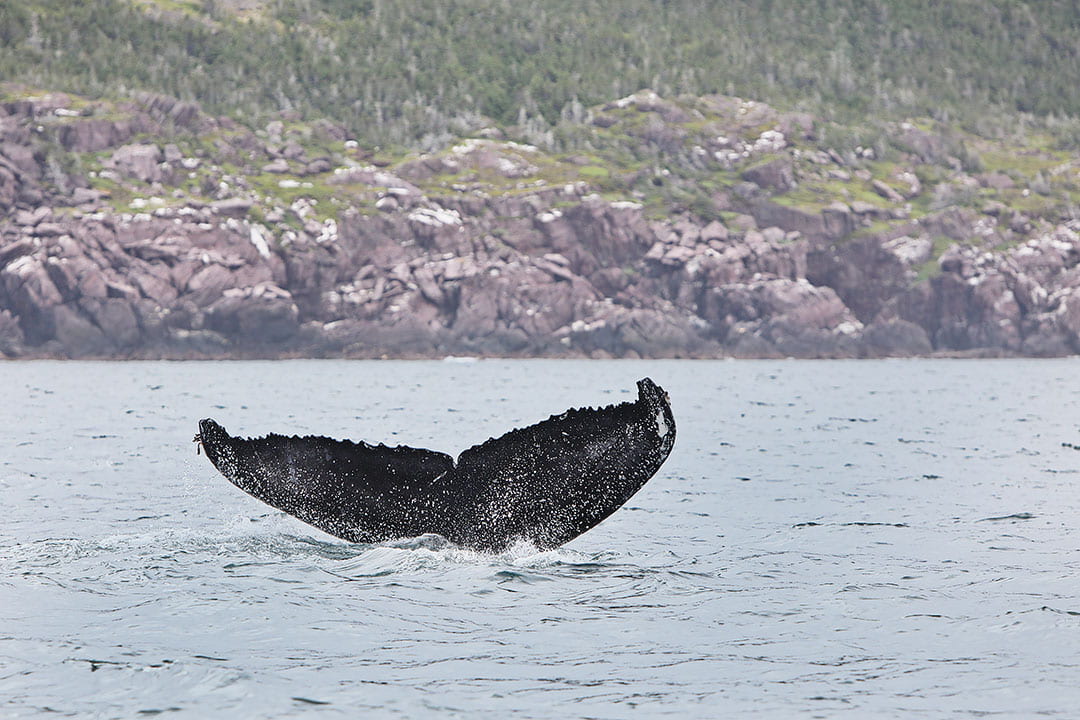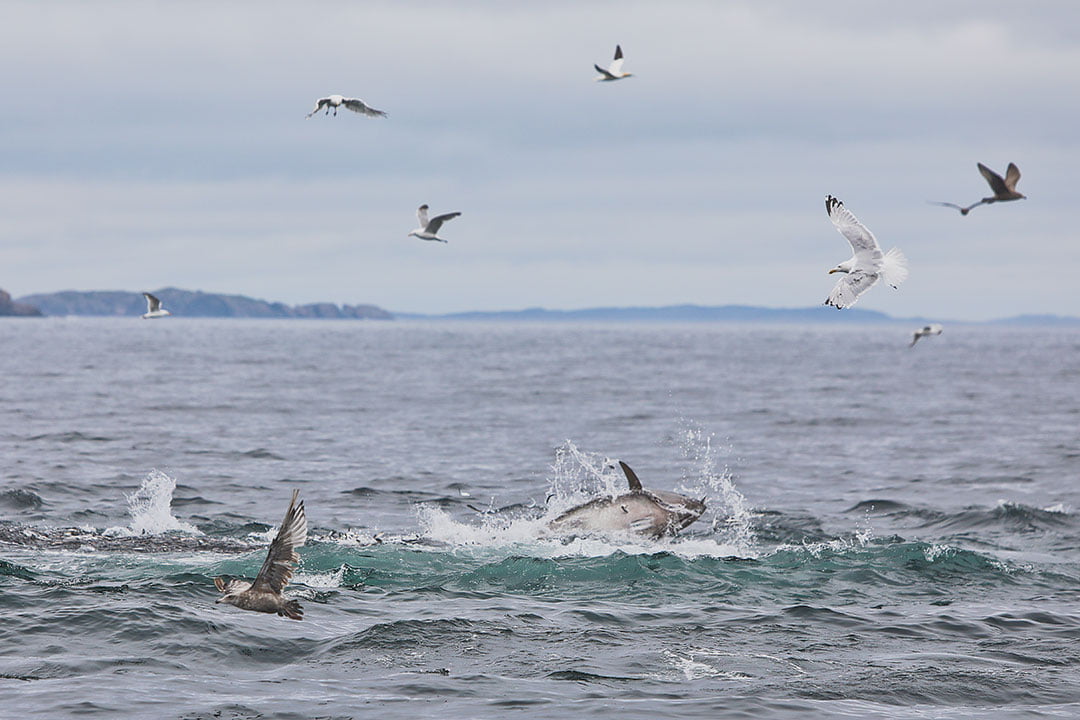 Cape Broyle, NL A0A 1P0, Canada, map
Whether you want to do just a small portion of it or try to conquer the entire 336 km trail, the East Coast Trail is a great way to see Newfoundland. The developed trail comprises of 25 wilderness paths and interacts with over 30 communities.
Their website has a great feature where you can narrow down which paths you want to explore based on difficulty. Some of the highlights you can find on the trail are:
The Spout (wave-driven geyser)
50-meter suspension bridge at La Manche
Abandoned coastal settlements
30 historic communities
Colony of Avalon archaeological dig at Ferryland
8 historic lighthouses
3 Ecological Reserves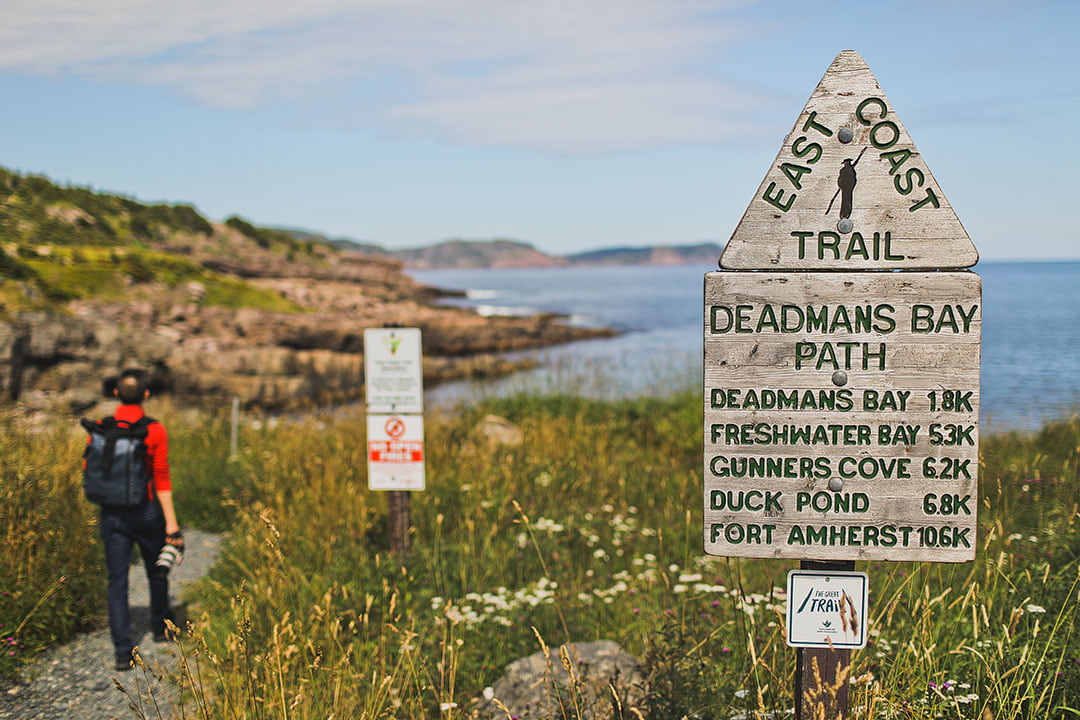 Gander, Newfoundland and Labrador Canada, map
This small town in northeastern Newfoundland that was made famous by the Broadway musical Come From Away. The story revolves around the planes that were rerouted here during 9/11 and how the community stepped up to welcome people from all over the world. Even for the most jaded New Yorker, it made you believe in humanity again.
Also, can you believe Gander International Airport also used to be the world's busiest airport? Before the age of jets, planes would have to refuel here.
The North Atlantic Aviation Museum is also a popular stop to check out how Newfoundland contributed to WWII.
12. Skerwink Trail, Port Rexton
Port Rexton, NL A0C 2H0, Canada, map
I know East Coast Trail is famous, but this was our favorite day hike during our trip. The 4.7 km loop takes you to beautiful viewpoints of rugged coast, panoramic views, and a chance to see whales. Maybe it was the whales, but the hike was epic!
Twillingate, Newfoundland and Labrador Canada, map
Newfoundland is one of the best places in the world to see icebergs. Every spring, icebergs of all shapes, sizes, and colors float by and bring in visitors to see them.
Iceberg Alley runs from the coast of Labrador to the southeast coast of Newfoundland (basically the entire coast is a prime spot for icebergs). Here are a few popular spots you can access by road:
St. Lewis
Battle Harbour
Red Bay
Point Amour
St. Anthony
La Scie
Twillingate
Fogo Island
Change Islands
Bonavista
St John's
Bay Bulls
Pro Tip: IcebergFinder.com is the go-to resource to track icebergs each season.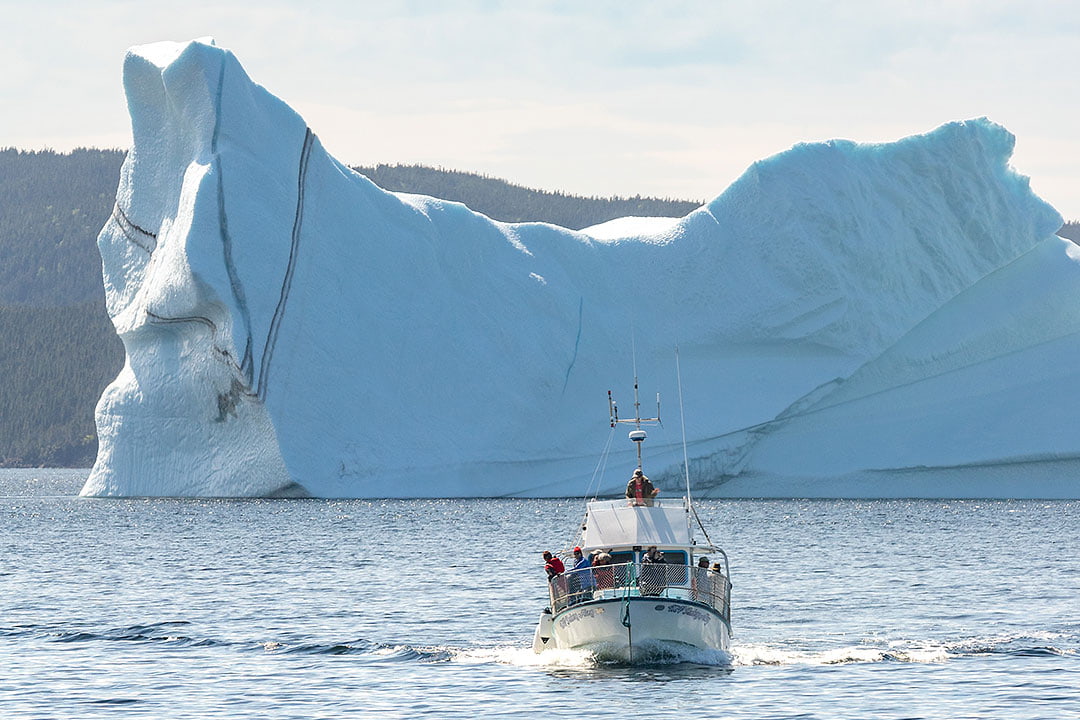 14. Cape Bonavista Lighthouse, Bonavista
PW27+HV Bonavista, Newfoundland and Labrador, Canada, map
Bonavista Lighthouse is a candy cane